Happy
Fat Quarter Shop
Friday everyone! Melanie Hurlston of the Australian sister design team,
Melly & Me
is stopping by today to tell us about her super cute new children's line for
Windham Fabrics
. Recently available for sale,
Little Menagerie
features the likeness' of popular Melly & Me "mascots" Phoebe the elephant, Magoo the Monkey and Hooty the owl.
As Melly puts it, "This collection was inspired by childhood memories, my love of bright and contrasting color, and my desire to create things that evoke a simple, carefree and fun mood in a too busy world. I have combined images of some of my favorite softie designs along with clean and bright co-ordinates that make me think of simpler days and the joy of childhood. This collection would be perfect for use in any sewing medium for the young and young at heart."
Available in 2 colorways, Phoebe and Magoo, this line is sure to delight children (and crafty parents) of all ages.
RWQ: Tell us a little bit about yourself. How long have you been designing fabric? What is your design background?
"Little Menagerie" is actually the first fabric collection that I have designed, and what an exciting journey it has been!! I started my design career approximately 4 1/2 years ago when I started the pattern design label "Melly & me" in partnership with my sister Rosalie Quinlan of Rosalie Quinlan Designs. What started as a nervous and fun filled beginning has now turned into a full time living with my patterns being sold all over the globe. I have no formal design training but have simply used my ideas and self-taught skills to create a range of designs that give me joy, and hopefully bring joy to many others!
RWQ: Where do you draw your inspiration from when designing in general?
I think that my main inspiration is simply fun! I love to create items that make me smile, bring me joy and make me reminisce about the uncomplicated and joyful years of childhood. I draw inspiration from my own two children and their passions, from my own fond childhood memories as well as just from nature and anything that catches my eye. As well as children's items I also love to create functional and wearable purse patterns and contemporary quilts.
RWQ: Is there anything you want to tell my readers about your inspiration for Little Menagerie? Do you have a favorite print in the collection?
Little Menagerie was inspired by some of my all time favorite "Melly & me" creations. Magoo the Monkey, Hooty the owl, and Phoebe the elephant have been worldwide favorites from my pattern collection and I also had to add in my favorite little bee who was featured in my book, "Kaleidoscope". My goal was to create a range of fabrics that are suitable for both boys and girls, young and young at heart!
I have so many favorites in this collection!!!! My all time favorites would have to be the pink Magoo (monkey) print and the yellow bee print - ok and the white spot, and the pink and orange stripe and the.......
RWQ: Do you offer other products besides fabric?
I have a great collection of sewing patterns (including Magoo, Hooty and Phoebe) available under the "Melly & me" label. Last year I published my first book, "Kaleidoscope" and I have also just released a second pattern design label called "Sew Little" which is aimed at all things baby!
RWQ: How can my readers find more information about your company?
They can visit our blog at:
www.mellyandme.typepad.com
Thanks Melanie for giving us a behind the scenes peek at how Little Menagerie was born! Sew Little and Kaleidoscope sound like fun new ventures for you. I'll be sure to look them up.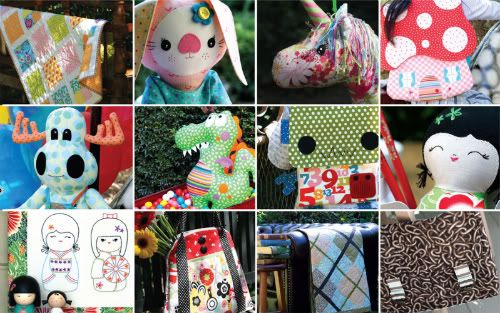 As a special treat to my readers,
Fat Quarter Shop
is donating two fat quarter bundles (one of each colorway) of Little Menagerie for you to win!
Leave a comment on this post to enter for a chance to win 1 of the Little Menagerie bundles up for grabs. Only one entry per person, please. All duplicate entries will be deleted.
I will draw two winners using the
Random Number Generator
on Thursday, December 9, 2010!
Thanks for sponsoring this giveaway FQS! Please take the time to visit Fat Quarter Shop today by clicking on the image above.
Stay with us all month long where we're celebrating the Holidays (and the season of giving) with at least one new giveaway every week!
There's still time to enter the Swoon giveaway.
CLICK HERE
. You can enter for a chance to win one of three bundles!
Never miss a post! Sign up
here
to have posts emailed to you as soon as they are published.
Good luck!