Hi everyone! This is the post you've all been waiting for. I'm finally going to announce the winner of the Sweetwater Sunkissed FQ bundle, donated by
Kimberly of Fat Quarter Shop
. I chose the winner as promised on Friday evening, but needed to wait till today to post it. I've been making some great headway on my
StashPact11
resolutions. Yay me!!
After a very minor setback, er moment of weakness, I managed to accomplish some things on my resolution list. Robert Kaufman released Metro Living this month and I couldn't stand how awesome the Ring Toss print is.
I splurged. Then felt guilty. Aw shoot, what a weakling!
Charlie and Lindsay of
Hawthorne Threads
has the first three prints. Jennifer and Janet of
Lola Pink Fabrics
has the last three!
I got an idea last week to help keep my scraps and WIP's organized. Martha Stewart has some wonderful
9 cubby storage shelves
available at Home Depot. We have 2 in the boys' room to keep their toy stash under control.
I picked up 2 units on the way home from work Friday and
18 fabric bins
in aqua and gray. I am using one unit to store fabrics and patterns for current
Patchwork Squared
projects. Each project will have its own cubby to keep everything together. As patterns are written and fabrics are gathered, I will set them in the bins and label them.
I was able to get the first storage unit put together Friday night after the kids went to bed. It was a quick project with minimal swearing and no manquilters were injured in the process. Shabang!
Here is a photo of the bins behind the sewing center in the studio. We'll see how long I stick to this plan. Anyone want to make any bets?
I spent the better part of Saturday cleaning up all my steaming project piles and sorting them into bins. I want to print out some picture labels to attach to the fronts of each bin, but I didn't want to get too geek sheik right now. I mean, in a perfect world I'd really like to pump those projects out so fast I don't have time to make labels for the bins (smoking sewing machine and all).
I know, "you're dreaming kid!" Too little time and not enough days in a month ... we'll see.
The rest of the fabrics were folded and placed on one of the two wire racks I have. I'll get to organizing by color in Feb. That's an elephant that can wait till another day. Need to get that other unit assembled first.
In other news, I sent these dishtowels off to a
friend
and they finally arrived! Now I can show them to you.
These towels are meant to be used, mister! Don't be afraid to get them dirty. They'll wash!!
I made them using a bundle of flour sack towels from a local shop and some Early Bird by Cosmo Cricket.
You can find this fabric at the following sponsor shops:
Hawthorne Threads
,
Fabric Worm
, and
Venezie Designs
.
OK, OK ... enough of my rantings.
1109 of you probably want to see who won that Sunkissed FQ bundle! Seriously?!?!? 1109 entries!?!? I think we set a new record here at RWQ. Thanks for stopping by everyone.
The winner is ...
Comment #268,
Sandy
! Woot woot Sandy!
I'll email you tonight for your contact info Sandy.
Block-A-Palooza
begins tomorrow, Jan 24th! Are you psyched?!? I am!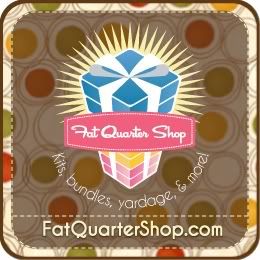 Thanks for sponsoring this giveaway FQS! Please take the time to visit Fat Quarter Shop today by clicking on the image above.
In the next few days we'll be hearing from a friend about her awesome new online quilting e-class starting February, and I'll be showing you some not yet released fabrics from designers that have contacted me in the last few weeks.
See you then,
Never miss a post! Sign up
here
to have posts emailed to you as soon as they are published.