Happy Fat Quarter Shop Friday everyone!
Kari Ramsay
of Fresh Cut Quilts is visiting today to tell us all about her recently released line,
Tidbits
, from
Henry Glass Fabrics
. Please give her a warm welcome! Check out those wonderful browns, blues and dusty pinks.
My wife and I had the opportunity to meet Kari and her husband at Quilt Market this past fall in Houston during Cake Party. Shortly before we met, I wrote to her and asked if she'd be interested in talking about her fabric line for my readers. She answered with a very enthusiastic, "Yes!"
Here is some background information about Kari from her designer profile:
As a child she loved to sit at her mother's side and watch her paint and sew. She soon began learning to paint from her mom and then continued on to sewing lessons. Her passion for creative design continued throughout her young life as she dabbled in photography, calligraphy, graphic art, pottery, sewing, drawing and painting. Kari attended the University of Oregon and majored in Fine and Applied Art. While there she met her future husband and they eventually married and moved to Utah. In Utah, Kari became a professional floral designer, and for over ten years designed and created floral arrangements and wedding flowers for many of Northern Utah's elite customers.
When Kari had her first child in 1999, she left floral design for motherhood and began sewing for her family. Quilting soon became a passion for Kari and she began creating her own quilt designs with hopes of turning these designs into a business of her own one day. Fresh Cut Quilts Pattern Co. began in 2007 with little more than a few designs and a big dream. She named the business "Fresh Cut" as a play on words from her love of floral design, flowers, and her idea that quilts should be "fresh" and unique. Her business soon took off, and she continues to design patterns for the quilting industry. She continues to live in the shadow of the Rocky Mountains in Utah with her husband and children.
RWQ: Welcome Kari! Thanks for being here today. Please tell us a little bit about yourself. What is your design background?
I began painting when I was very young. Maybe about 4 or 5 years old. My Mom painted with oil paints, and she taught me how to hold my brush and how to mix colors. Later, she taught me to embroider and to sew clothing. When I was in Junior High and High School I took art classes all throughout. But, I still loved painting and pursued it more than Pottery and Calligraphy. When I went to college, I majored in Fine Art, but never finished my degree. I had considered becoming an art teacher, but things didn't work out that way. I began a career in Floral Design in my early 20's and continued to design with flowers for about 10 years. I focused on wedding floral design, and consultation. Creating a beautiful day for a Bride is a wonderful gift to give. I really enjoyed my work, but the hours became demanding with a family. At that point, I left floral design, and renewed my interest in sewing. Not long after that I learned to quilt. 10 years later, I am designing quilt patterns and quilting fabric, and now my Mom teaches my patterns to students in her area. I am so grateful, and this has become a dream come true for me.
RWQ: Where do you draw your inspiration from when designing in general?
My design inspiration can come from any source. One of my favorite sources of inspiration comes from early 20th century America. I love to collect vintage feedsacks and I get many ideas from these. I own many vintage collectibles that range from the 1920's through the 1940's. A few of my favorites are, a 1927 Lovell Family wringer washing machine, a 1920's Marvel parlor stove, a child's doll high chair, and several vintage 1930's era quilts. One piece that I own is a 1925 GE Hotpoint Range. The sleek lines and almost Art Deco feel of this range is lovely and it is a perfect depiction of 20th Century American design. It was intended to be a beautiful piece in every housewives' kitchen. I use it as a Side Board in my dining room and I find it very charming. I often see designs in architectural detailing, carpet and rug designs, and from nature. Flowers, trees, butterflies, Dragonflies, and anything unusual in my surroundings, can all be sources of great inspiration.
RWQ: Is this your first design to be licensed on fabric? What other mediums do you design on?
This is my first line of licensed designs. I am continuing to work with Henry Glass and we are beginning to develop my next line of fabric. I often design with acrylic paint and Bristol Board, pencil and paper, crayons, any writing or drawing instrument usually. When I need color inspiration, I often go to the paint department at a hardware store. They have thousands of paint chips, and the myriad of colors helps me play with color. This is particularly useful in the winter when our gardens are covered in snow!
RWQ: Is there anything you want to tell my readers about your inspiration for Tidbits? Do you have a favorite print in the collection?
My inspiration for TidBits came from Art Deco styling, contemporary art, and I think it has a late Victorian era feel with a modern twist. I love to mix different design styles, so I think my fabric lines should express that. There are pieces in the line that are largely contemporary, and the Damask pieces could almost be wallpaper in a Victorian Parlor. It is hard to choose just one piece that is my favorite, but I love the Bracelet Dots. They make the formal pieces in the line a little playful. They add a simplicity to the drama, and I love that.
RWQ: How can my readers find more information about your company?
I can be found by going to
http://freshcutquilts.com
or by checking out the Fresh Cut Blog at
http://freshcutquilts.blogspot.com
Thanks so much for being here with us today, Kari! Tidbits is a wonderful new line. I can't wait to see what you're working on next!
Kari has brought along a copy of her book to give away to my readers. Thanks Kari. She also arrived with a fat quarter bundle of Tidbits to go along with the book!
Released in the spring of 2010, Tidbits from Triangles, by Kari Ramsay, features 10 simply creative projects using half square triangles.
I will draw one winner using the
Random Number Generator
on Friday, February 18, 2011!
To win, leave a comment on this post. Only one entry per person, please. All duplicate entries will be deleted.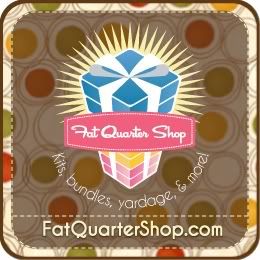 Please take the time to visit Fat Quarter Shop today by clicking on the image above.
Never miss a post! Sign up
here
to have posts emailed to you as soon as they are published.