Happy Monday everyone! Today, we have a special edition of Quilt Talk featuring an interview with fellow male quilter Charlie Scott of
Qubee Quilts
!
Charlie, who also happens to be my partner in crime for
Patchwork Squared
, is hosting a FREE
Christmas Quilt Along
beginning Sunday, July 10! Mark your calendars, he also has prizes you can win!
Here's a photo of charlie and I in Houston last year. My wife, Charlie, his partner and I took the last day off from Quilt Market and went to the
Houston Zoo
. We had a great time.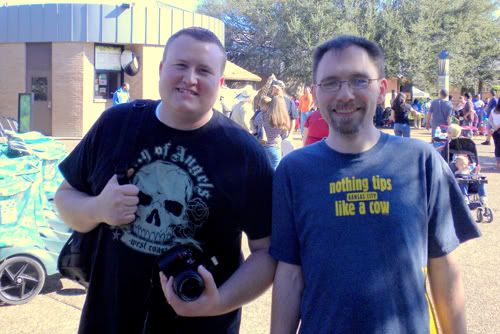 RWQ: Hey Charlie! Thanks for being here today and talking with me for my readers. Can you give us a little background about how long you've been quilting?
I have been around quilting my whole life. I never really even thought about it or considered it as a child. It was not until I was in my early twenties that I first thought to quilt myself. My Aunt and Grandmother were always quilting. My Aunt would quilt on her long arm machine. Not the machine like most of them today, but the first type that you moved the frame. My Aunt made her living quilting for others until she got too old and could no longer stand that many hours at the machine. My Grandmother used to hand stitch quilt tops. When I was young, my Grandmother asked what colors I would like her to make me a quilt in. I told her pink. She used a 1930's bubble gum pink. Even today I love the reproduction prints of the 30's. I love the use of vivid colors and contrast.
I first began quilting in 1998 after watching a friend piece a quilt. I thought it might be fun to try. She told me to pick out a quilt pattern from her library of books and buy some fabric. Her advice was not to start with anything too big in case I did not like it or it could become overwhelming. I picked out a log cabin quilt that measured 30" x 30". I thought this would be the perfect first quilt. I went to Jo-Ann's for fabric even though I had no idea what I was doing. I was a fish out of water. I had no idea how to match colors. There weren't fabric collections. All I found that would go together were a group of Christmas fabrics. I brought my fabrics home and began to cut them into small strips for my blocks. How did I sew them together? I went to Wal-Mart and bought the cheapest sewing machine I could get my hands on. Big mistake, but we live and learn.
I went to my friend's house and showed her the fabrics and machine. She thought I was doing great. She told me just keep it up and call if I had any questions. I set the machine up and got to sewing on my new quilt! I liked this! I was half way done when I noticed that my blocks were not square. I went back to ask my friend about them and she took a look at my blocks and asked what pattern I was using. After a minute or two, she told me I was doing a miniature quilt! The quilt called for 6" blocks. She suggested it might be better if I made a small quilt using full size blocks. I placed that project in a shoebox and went in search of another quilt pattern and more fabric. Sorry, to say I never finished that very first quilt.
The next pattern I took on was Court House Steps. I combined reds, yellows, greens and blues. It turned out great. I was hooked. I have never looked back since, nor been sorry I have gone down this road.
RWQ: Well, 13 years later here you are! How would you describe your quilting style?
I am always amazed and grateful when people love my work. I never dreamed anyone would want to see my quilts! I'm so encouraged when others declare how unique and original my designs are. I'm a traditionalist with a modern twist. I take a little of this…. and that ….then before you know it --- I have a whole new quilt design.
RWQ: I think that's why we work so well together for P2, buddy. We are both modern quilters with a love for traditional block designs. When you started Qubee Quilts what were your goals for the company?
My blog, "has taken me to great new places. You might say - it has put me on the "Quilting Map."
I started the blog just as a fun side thing and to show off my work. We all like to wave our hands in the air and say, "Look over here! See what I have made".
I'm not a writer. With that being said, I'm not sure why I started this blog. I can't even spell. (Really he can't! –editor's note.) With the help and support of a few close friends and some creative editing --- I bring you my blog --- a snippet into my life each time.
RWQ: I know we've discussed this extensively and have worked together several times in the past, but for the sake of the readers, what methods do you use to design your quilts?
I just take some shapes, put them together and keep trying till I have something that is pleasing to the eyes. I don't design on paper like so many others, but I use the computer. I can't draw a straight line. I would never design if it was not for the computer. I'm a "see it in front of me to see if it works" kind of person. I can't see it in my head like so many others. I wish I had that gift, but I don't I don't have a sense of color or even know what looks right together. I just take some fabrics that I like and look pleasing to the eye and place them together. I don't have the color gene. When I think of color I don't even keep the color wheel in mind. It was not till a few months ago that I even had a design wall to try out different things. I now throw it on the wall step back and look at it then mix it up some, but still for the most part a throw it all together type person and hope it works out.
RWQ: Can you tell the readers about the quilt patterns you've released through Qubee Quilts?
I'm not the type of person that likes to talk about himself and boast about my works. I have always made my work for myself and not given a damn what others think or even going to say about it. It's maybe that mind set that has led me down the path and the encouragement of others to design a few quilts with Moda on their bake shop. I've even put them in the state fair, at the request of others. I have designed some quilts for a local quilt shop here in Kansas City and they, along with the Bake shop quilts can be seen on
www.QubeeQuilts.com
.
RWQ: Oh sure, take the easy way out on that last question! Let's get down to the reason why you're here today: the quilt along. Tell us all about it!
There are only 180 day left till Christmas, are you ready?
The
Christmas Quilt Along
is basically just a day when we lock ourselves away, (or lock the rest of the family away), work on our own Christmas projects, post from time to time about our progress during the day, go and visit the other people who're taking part to see what they're up to, maybe eat a little festive something (chocolate's always good!) and generally give ourselves almost a "retreat day". During the course of it, 'cause it's difficult to stay serious for too long, there will be some fun bits, maybe a little quiz, some suitable music, that sort of thing, and there might be prizes too!
I read
this
and knew right away I wanted to join in on the fun, but I work every Saturday. I wrote Sue to see if they ever did anything on a Sunday and they have not. She said I could do it on Sunday if I wanted in lieu of Saturday, but I thought that would be no fun. So I wrote Sue back with a few ideas in hope that I could convince her to also do a Sunday, but she told me I had such great idea that I could just run with it myself.
To help you get in the mood Qubee Quilts has teamed up with
Cathi & Sue
and we're going to make one big weekend event of this. Our Quilt Along will be the 2nd weekend in July, the 9th &10th.
On the 9th you jump on over to
Cathi & Sue
and see what fun things they have planed for you. Then on the 10th you jump back over to
Qubee Quilts
.
Now, me being me, I can't let all my peeps just run amok. I've got to be in control you know. :-)
I have designed a quilt for my Sunday quilt along. I even have giveaways planned for the whole day. Sure to be lots of fun.
The quilt sample pictured above uses Countdown to Christmas by Sweetwater for Moda.
RWQ: I'm happy to say that RWQ is a proud sponsor of your quilt along and hope we see a lot of participation. Please tell everyone how they can join in.
Thank you for being a sponsor of this quilt along and encouraging your readers join along. My hope in doing so is to get people to start thinking about Christmas long before the last minute. I know for most that will never happen, but we can try right? Welcome on board it's great to have you and your readers.
The QAL Flickr group:
CLICK HERE
QAL Frequently Asked Questions:
CLICK HERE
Basic Supplies QAL Post:
CLICK HERE
Thanks for being here today Charlie!